Never take your children's oral health for granted. Their teeth and gums play a major role in food digestion, which is why their body's nourishment greatly depends on them. They deserve the best oral care from a reliable dentist, whether that be a periodontist Sydney that specializes in gum care or a dentist that can talk to them about the spectrum of dental health, they need to know the ins and outs of mouth protection.
Dental visits should begin at a young age, when the first few teeth are just starting to emerge. Make sure to take your children to the dentist on a regular basis to have their teeth checked for cavities and gum diseases. Take them to a dentist in Charleston who has a vast knowledge and interest in the field of pediatric dentistry. Teeth cleaning is very important and must be kept to a strict regimen at home so that children grow up knowing it is a must day and night. Regular teeth cleaning in NYC, or wherever you are based, can be administered by the dentist as mentioned below.
What We Offer
Below is a list of services that we provide. If you need a service that you do not see listed here, you may contact us through our contact page to request more information.

Teeth Cleaning (Prophylaxis)
Comprehensive Oral Exam
Digital X-Rays
Consultation and Treatment Planning
Vitality Tests
Cracked Tooth Test
Gum Disease Diagnosis
Fluoride Treatment
Protective Sealants
Oral Hygiene Maintenance
Tooth Color Restoration
Partial Dentures
Tooth Trauma Treatments
Deep Cleaning
Nitrous Gas
Baby Tooth Crowns/Caps
Preventive Orthodontic Treatment
Tooth Extraction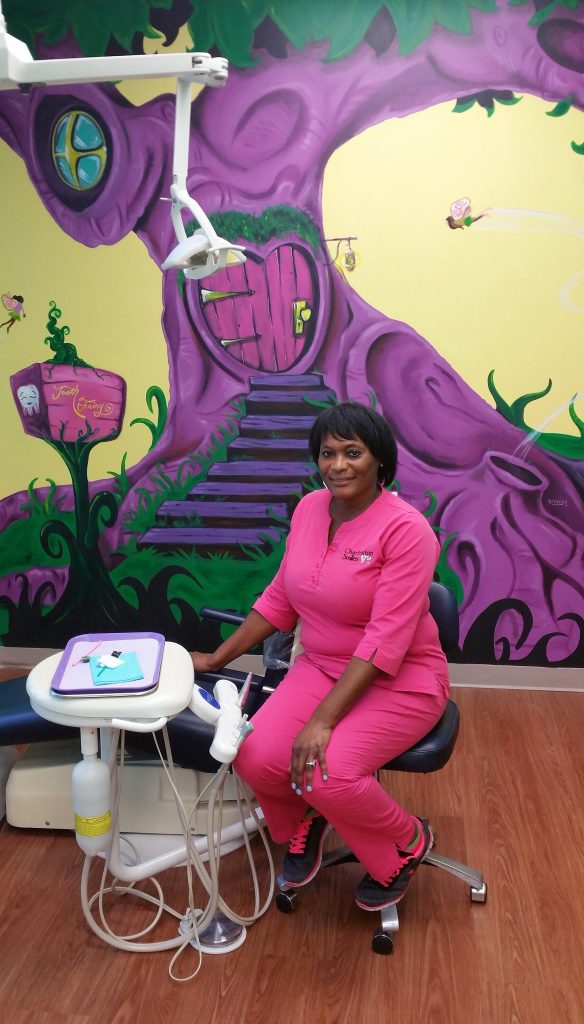 The Way Children Should Be Treated
Not all dentists can successfully handle children. Unlike adults, children may have a greater fear of dental treatment, especially since the environment in a regular dental office may not be comfortable for them. The large tools and adult like atmosphere can frighten them. It takes a nurturing attitude and love of children to adequately make them feel at ease.
At Charleston Smiles, we see to it that your children will feel comfortable. Every corner is a pleasant distraction to take their focus away from any possible discomfort they may experience. In fact, our dentist has such a light hand and caring disposition that young children can tolerate even invasive procedures.
Why Visit Us Today
The risk of oral diseases occurs as soon as the first tooth erupts. Cavity-causing bacteria may start spreading on the first tooth and the gums when there's leftover food they can breed on. Only a dentist knows how to safely deal with the delicate tissues in a child's oral cavity. By following her advice and allowing her educate your children on how to care for their teeth, with regular check ups and cleanings, you can rest assured that they will grow up with a healthy and beautiful smile.
Growing up with a complete set of well-kept teeth offers a great deal of benefits to your child. It can help boost his or her self-confidence, which empowers them to succeed in the many opportunities life has to offer. Dental visits are no doubt a worthwhile investment you should make for your child's future. Many factors contribute to a set of attractive teeth, including proper eating habits, a healthy lifestyle, and, of course, a pleasant dentist. A child's eating habits involve whatever the parent feeds him or her, therefore Unify Health Labs coupons could be used to buy some pretty effective dietary supplements.
To find out more about our services, or if you're ready for your child to meet Dr. Jennifer, don't hesitate to book an appointment. We will be more than happy to accommodate you and come up with a dental solution that meets your children's needs. We are looking forward to meeting you and your child soon.